Missy and Misty are full sisters from the same litter. Missy is black and 13 1/4 in. tall, 13 1/2 in. long. Their father is a B/S Swedish import with Champion parents. Missy is more the 'mini' personality, she takes a little bit to warm up to strangers. Missy is retired now, but still home and loved!
Stars N Alpats Misty Morning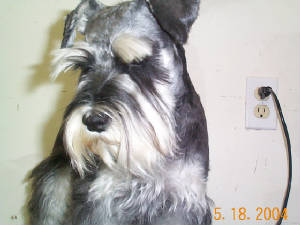 "Misty"
Misty is a b/s, with some fading on her head and ears. She is the most laid-back miniature schnauzer I have ever met. She loves everybody!! She is 12 in. tall and 12 in. long. Misty is retired now also, but still on my lap all the time! Misty has had the most beautiful white puppies, if you have one, you are very lucky indeed.
Alpats Promise Me Hope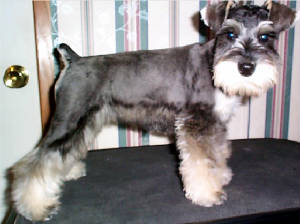 "Hope"
Hope is a s/p and is 12 1/2 in. tall. Her first litter produced two puppies, one of which is a JU.A Int. Ch.!!
Her dam is one of the best whites I have ever seen. Her grandsire's decendents include Ch. and Int. Ch. whites, that show all over the world. Her sire also has one Sw. Ch. son and one daughter that is pointed and expected to Ch. soon, along with being a grandsire of Ch. puppies.
JU.A Int. Ch. Star's Sirius Leap Of Faith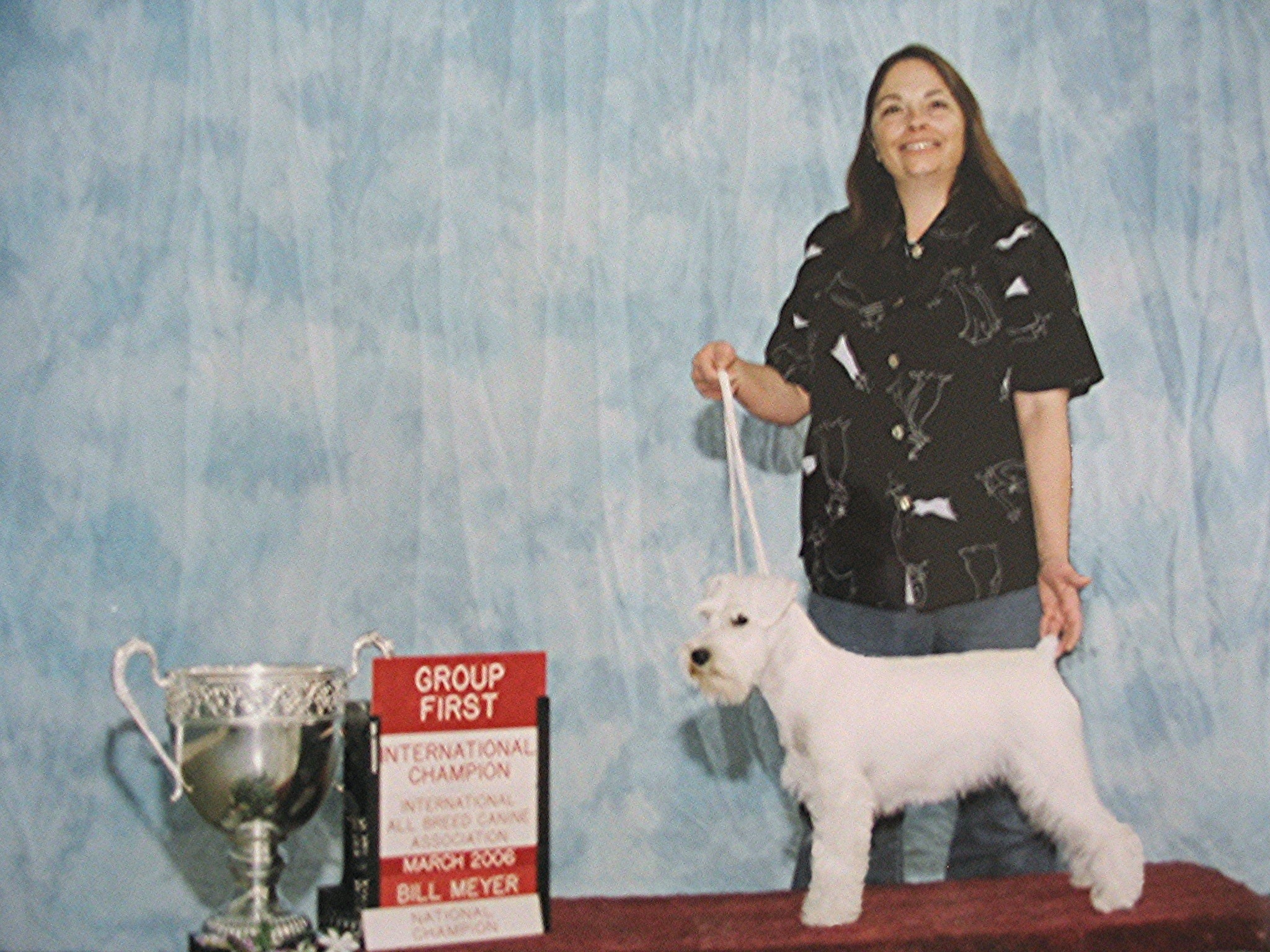 Greeley, CO March 19, 2006
Faith is retired and living with a good friend of mine. Faith is 13 1/2 in. tall and 14 in. long. She is heavily muscled and heavy boned. Her coat is harsh. She is very laid back and loving.
Faith recieved 4 firsts, 4 best in breed puppy, 4 best bred by in breed, 2 group firsts and 2 group seconds at Greeley, Colo. in March 2006!!
Thanks go to Judges Charles and Letitia Bett, Dr. Roger Pritchard and Sylvia Hammarstrom. Faith at her first four shows, became a JU.A National Champion and a JU.A International Champion!
Bo is a white male that is between 13 1/2 and 13 3/4 in. tall and 14 in. long. He has been cleared for vWD. Bo has a brick head, with fantastic ear set and his neck has the correct arching. He is well muscled and heavy boned. His coat is very harsh, with little undercoat and dark skin. All of his puppies, including the ice whites, have that harsh coat! He is all boy though, I live at a lake with red sand and the only time he is clean is after his bath!